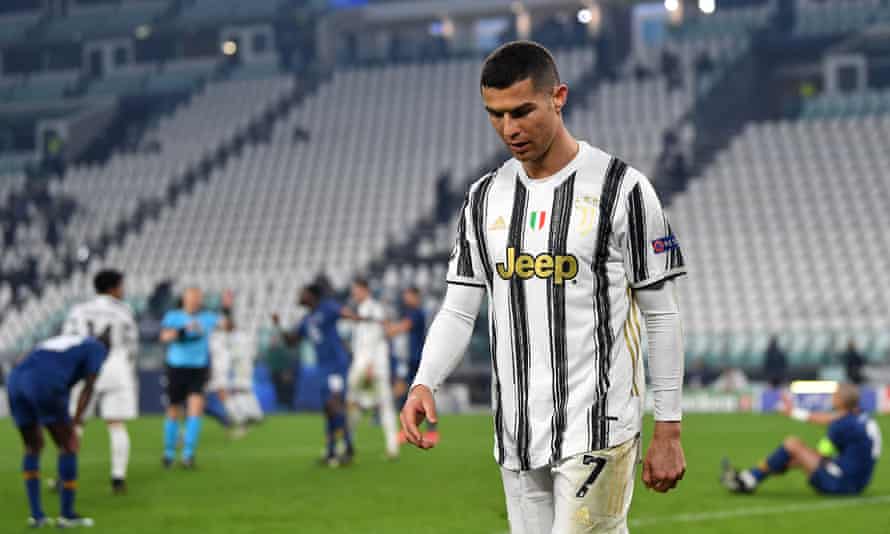 Three years ago Juventus gambled on Cristiano Ronaldo lifting them to Champions League glory. Since then they have laboured against underdogs in the knockout stages, losing to Ajax in the last eight in 2019, to Lyon in the last 16 last season and now to Porto. Coincidentally, Juve's chairman and very own bad ideas machine, Andrea Agnelli, reckons that football would be better if transfers between big sides were a thing of the past.
Agnelli, the chairman of the European Club Association, is one of the main drivers behind reforms that will make the Champions League even more elitist. In his head, football is not about upsets. And in his world, the path to glory is achieved with one of the best examples of big-club excess: betting everything on a superannuated superstar whose ageing legs make it impossible for Juve to usher in a more expansive style of play under their inexperienced manager, Andrea Pirlo.Porto stun Juventus in extra time: Champions League – as it happenedRead more
Perhaps Ronaldo, ever the showman, still has it in him to defy time. But there is a large body of evidence to suggest Juve, who are 10 points below Internazionale at the top of Serie A, have become a worse team since buying him from Real Madrid.
They were deservedly humbled by Porto, who somehow reached the last eight on away goals despite playing most of the second leg in Turin with 10 men after a moment of utter folly from Mehdi Taremi.
The decisive moment came when Porto, who were so brave on and off the ball, won a free-kick with five minutes left in extra time. Sérgio Oliveira, who had put the visitors 3-1 up on aggregate with a first-half penalty, struck the ball low and hard towards the wall. Ronaldo jumped, turned his back and the ball went through his legs, leaving Wojciech Szczesny unsighted and unable to react in time. There was no better way to sum up Juve's inertia.